The Class
Shoshin Ryu youth program martial arts classes include Nage (throws), Newaza (ground techniques), Atemi (strikes), and Goshinjutsu (self-defense).
Shoshin Ryu Kokoro Series emphasize personal growth and character development that will instill discipline and focus that can follow a student in all aspects of their life.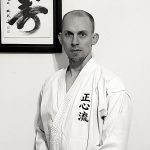 Sensei Shane Stetz
Shane is the Shoshin Ryu Organization's subject matter expert on Bo (staff) and is on the Board of Directors.
TESTIMONIALS
WHAT PEOPLE ARE SAYING
"Sensei Stetz is a fantastic instructor and talented martial artist. With a couple decades of experience under his "belt", he can help anyone who wishes to excel in martial arts. Give his dojo a try!" -Michael Scisco
"My wife and I love it here. The classes are fun and meaningful and you learn a ton. Everyone is respectful and encouraging. I would recommend this place regardless of your age." -Hunter Marshall
"Sensei Stetz is one of the best instructors I've trained with. He is extremely disciplined in growing and maintaining his art and can help you reach your Martial Arts goals safely and efficiently." -Jake Hallowell